The Best Board Games for Learning
Searching for the best board games?
Motivating your child to learn can be a struggle. That's largely because most traditional means of learning are boring, tedious, and dreaded. But there are more people than ever figuring out that learning games can increase their child's desire to learn.
There are plenty of options out there, and some of the best board games actually teach your child social skills like Didax - Social Skills Board Games
while improving their knowledge. They'll also give you a chance to spend time together as a family. Whether you're looking for free card games ideas or want to buy a great board game, you've got plenty of options.
Some of the best board games are classics. Chess has been played for centuries and can truly improve your child's ability to plan, strategize, and think dynamically. Chess games exist in various forms and you can usually find a set that matches your child's interests.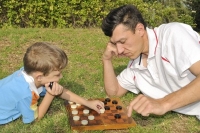 There are chess games based on popular TV or movie series, classic fantasy characters, or just the plain old chess boards you remember from your childhood. No family should be without a chess board, since the 'game of kings' can foster numerous developments in your child. The Chess Teacher
is a great resource for anyone that needs to learn chess.
Free card games and free card games ideas are important as well. A deck of traditional playing cards can be transformed into a learning tool with a few simple ideas, and unique decks may be designed with learning in mind. Best of all, card games are small so they're easy to store, to take with you on a trip, and even to play while on a long drive or a flight.
Your child can play free card games anywhere they are with ease, having fun and learning at the same time. They're among the most popular learning games around, and inexpensive as well.
Some truly excellent board games have gained international acclaim. For instance, The Settlers of Catan
has become one of the most well-known learning games in the world, and even has championships held annually. Settlers of Catan teaches valuable resource management and trading skills that can be applied to a number of real world principles. It's also been translated to video game form, has numerous expansions beyond the basic set, and is truly one of the most famous board games in the entire world.
If you want to enjoy time with your family while teaching your kids some valuable skills, Settlers of Catan is a game you should certainly consider.


---
Return from Best Board Games page to Educational Games home page